Welcome to Intermat, Paris
11 April, 2019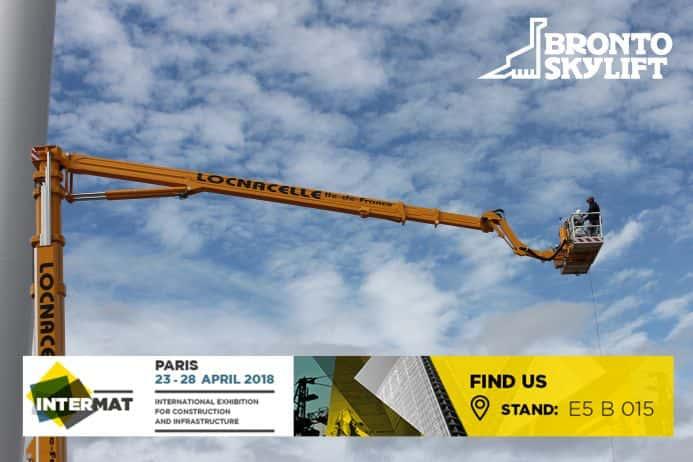 Bronto Skylift will be showing and demonstrating the trusted S90HLA aerial work platform at the INTERMAT exhibition in Paris, France on 23rd-28th April.
"S90HLA is the most stable and precise ultimate high-rise access platform on the market offering the best operator experience. With it you can focus on reaching the job at hand and working at heights, leaving the control system to take care of the rest," says Dominique Allemand, Sales Manager, Bronto Skylift.
Our experience in building high truck-mounted access platforms is unmatched. Up to date, we have delivered more than 100 units with a height of over 90 metres. "Over 40 years of product development has resulted in high reliability. This not only ensures safety, but means high uptime, too," Allemand continues.
The S90HLA unit features a 90-meter working height with a horizontal outreach of 32.6 m and a cage load of up to 700 kg. Its boom construction is made of rigid, high-strength steel, resulting in a very stage operating experience. There is an electronic Bronto+ control system including geometry-based outreach control, which gives exact and reliable outreach calculation under all conditions. The movements are smooth and fast due to a generously dimensioned hydraulic system, which helps maximise operational efficiency. Total weight of less than 48 tons makes the unit suitable for Category 1 special transport. S90HLA is available for a short delivery time.
The unit at INTERMAT is equipped with a 400 kg cage winch, an extendable working cage, a high-pressure air water line, and a 230V line between the cage and turntable. All of which make your high rise operation even more efficient. Read more of Bronto Skylift access products here.
You are warmly welcome to our stand E5 B 015, see you in Paris!