Increasing safety at the Port of Miami
Dante B Fascell Port of Miami, or "PortMiami" for short, is the titan of Biscayne Bay. Located at the mouth of the Miami River, PortMiami is the largest and busiest passenger port in the world, and one of the largest cargo ports in the United States. PortMiami's noteworthy status as a hub serving both passenger cruise ships and container cargo demands the best in fire and rescue. To this end, PortMiami was in need of a solution that was fast, flexible, and safe — both for traversing up and over ships and reaching below ground level.
"We were mainly looking for an aerial ladder platform that'd help us protect the ships by getting us up to 116 feet and over the sides. We also needed to be able to work safely below-grade if we needed to. That's why we chose Bronto."

Lieutenant David Gates, Miami-Dade Fire Rescue (MDFR)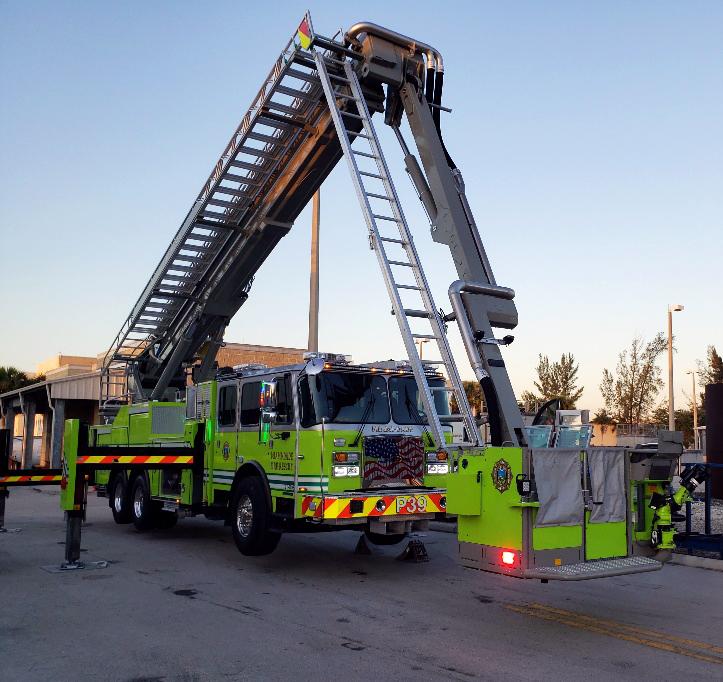 MDFR provides fire and rescue services to PortMiami and the surrounding area, and has been operational since 1935. Bronto Skylift F116RLP is one of the latest additions put in place to expand the team's operational capability portside. And at bustling MiamiPort, the nearest U.S. container port to the Panama Canal, the versatility of Bronto is key.
With its ultimate maneuverability, the F116RLP is exceptionally well-equipped to cope with the tight corners and challenges the location presents. The aerial platform is mounted on an E-ONE Cyclone custom chassis with a Cummins X12 500hP motor, Allison EVS4000 transmission, Hale 8FG pump with 2000gpm rating and a 300-gallon water tank. The equipment was delivered by E-ONE Inc, Bronto Skylift's North American distributor.
"The fact that the platform itself can move gives us an advantage, for example, when positioning at the corner of a building and getting up and close to the windows. The best feature of the Bronto is that you can line the platform up directly with the window instead of leaving a gap, where someone could fall."
MDFR's first Bronto arrived in October of 2019. The global pandemic, COVID-19, caused an unexpected break in training, but during the spring the team was able to test Bronto's capability in their operational arsenal.
"So far, we have about 30 guys ready to drive it, and we've put in some good training hours. We've been using it to get up over positioning lines, like parapet walls. We've also trained on high-rise buildings and ships, going up and over the railing."
The new F116RLP will be located at the port as their go-to solution for fire and rescue at height. A continuously developing world hub for global tourism and trade, PortMiami offers an exceptional challenge — but one that Miami-Dade Fire Rescue, along with their Bronto, can no doubt match.
"I think it's very safe. And performance and capability-wise, everybody likes the Bronto."