Far-reaching aerial platforms for tall transmission lines
Manitoba Hydro is a provincial Crown Corporation in Manitoba, Canada, with its roots stretching back more than a century. Today it's one of the largest electricity and natural gas distributors in the country. As well as supplying power to the whole of Manitoba, its export market includes Ontario, Saskatchewan, and the United States.
We sat down with Methods Coordinator Scott Goodman and Live Line Methods Safety Engineer Jeff Laninga to discuss their purchase of a Bronto SI196HDT-C aerial platform, and how their work with it has been progressing so far. Together, they're responsible for ensuring the efficiency and safety of their live line team, who work with energised lines – now with the help of the Bronto.
Upgrading the fleet
Manitoba Hydro was searching for the farthest-reaching aerials on the market to improve the efficiency of their work on Manitoba Hydro's newest, tallest transmission lines. The search led them to Bronto Skylift.
"Scott and myself are the ones that pushed for this Bronto aerial," says Laninga. "We'd heard a lot of good things about Bronto in our industry, so we decided to go big or go home."
After getting internal approval to purchase their new aerial, Goodman and Laninga met Jeff Harris of Hycotec, a long-time Bronto Skylift dealer and expert in insulated aerial platforms. Together with Bronto Skylift, they were able to deliver on a set of modifications that would meet Manitoba Hydro's specific needs. This included a 17-foot clear-glass insulated boom – for added safety while working with live lines – and a hydraulic system warm-up circuit that permits operation of the aerial during the frigid Canadian winters.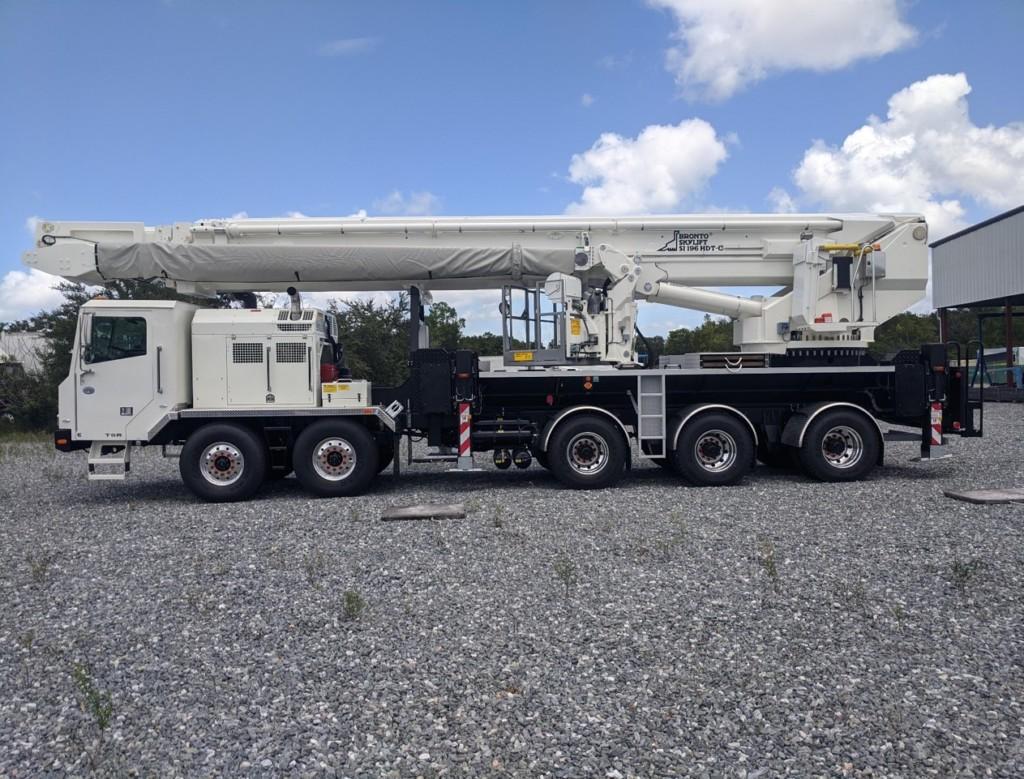 Live line work with the Bronto SI196HDT-C
Once in the field, Goodman and his live line crew quickly realised the benefits of their new aerial in terms of access, stability, and safety.
"The ability to have it on wheels and drive it wherever we need is quite an advantage. We just did a job with the Bronto, and, wow – it was so easy and quick," says Goodman.
At a recent operation in Winnipeg, the Manitoba Hydro team used the Bronto to take measurements from a 500 kV AC energised line. The insulated boom, which enables live line work, prevents subjecting power consumers to an outage. Goodman's team found the aerial easy to get into position – the job site was on relatively soft ground in a grassy field – and the Bronto performed admirably.
Goodman and his team are quick to highlight the stability, and mobility, of the unit in the air.
"I can't believe how stable that unit is at height. It's very controlled. The mobility of the cage was excellent, because I could set up in the middle of the tower and tie the conductors in on both sides just by moving the cage around."
In addition to the unit's mobility, Goodman praised the built-in safety features that prevent the aerial from moving once the operator enters a danger zone.
The end result for the job was a huge benefit in productivity.
"Instead of taking three days it took six hours, and then we were done. There were huge time and cost savings, and ease. No one had to climb any towers, which takes a long time and is very labour intensive. This is an awesome machine and our team wants to work out of it all the time."
Energised by growing demand
As a leader in high-voltage direct current (HVDC) live line work, and with a large surplus of hydroelectric power, Manitoba Hydro is well-positioned to supply the growing demand for power in Canada and the United States.
"We have a lot of expertise. And we have the most experience – in history – of doing HVDC live line work. There aren't many utilities in the world that do live line work on HVDC lines," says Laninga.
A rising tide of environmental legislation and green energy – including the growth of the electric vehicle market – are set to push the need for power higher in North America over the coming decades. With approximately 96% of its electricity produced by hydroelectric dams, Manitoba Hydro is an outlier in terms of environmental sustainability.
"The demand will definitely rise, it's always rising," says Goodman. "We can see more energised work coming, and that's where we'll be using the bigger units rated for higher voltage."
Suffice it to say, Manitoba Hydro has high hopes for growth in the future – a situation that will demand more lines, more labour, and more equipment.
"We're looking forward to using it more, and every time we use it we get more comfortable with it. It's easy to set up and easy to use. Everything is good."