Bronto Skylift launches North America's tallest fire fighting aerial
20 April, 2022
While the industrial access has been using large truck-mounted aerial platforms for wind turbines and such for a long time, the fire & rescue aerials have been limited to the heights of about 100-135ft. North America fire services commonly use aerial ladders, that tend to have lower heights than the articulated aerial platforms with a solid steel boom as the main structure. Another limiting factor has perhaps been the size of larger, over 200-foot aerials, that can be bulky and difficult to navigate through ordinary city streets.
Breaking the boundaries of reach
The aerial offering is now radically changing, as Bronto Skylift introduces a 230-foot articulated aerial platform, the Bronto F230RPX, commonly known as The Beast, to break the boundaries of reach. The working height is 230ft, which is equivalent to 20 floors. The previous maximum height, 135ft, corresponds to about 11 floors. In other words, the F230RPX enables nine floors more vertical reach for fire departments all over North America. The first unit was developed, designed, built and delivered in collaboration with 1200 Degrees, an experienced Bronto Skylift partner in Canada. 1200 Degrees will be the local service provider making sure the unit remains safe and ready to serve during the years to come
While there is a big increase to the operational rescue height, the reach can be seen in many different ways. Also the horizontal reach and so called up-and-over are much improved from what has traditionally been offered. Maximum horizontal reach is 105ft, while most of previous models offer less than 90ft. The capability to reach up and over for example the parapet walls and lower roofs is 34ft. Reach below grade from river banks and bridges is about 20ft.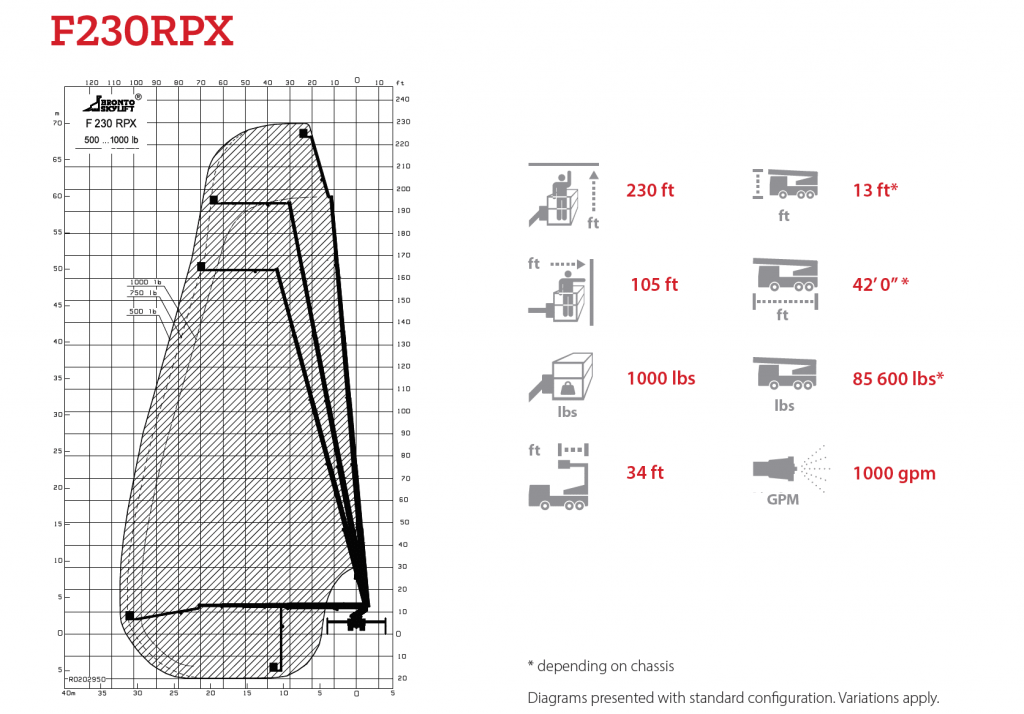 Versatility for fire and rescue operations
The biggest benefit of an articulated aerial platform is the operational versatility. This is partly enabled by the articulation, that ofers versatile reach in all directions, but a big part of the versatility is enabled by the spacious rescue platform with 1000lbs safe load. The platform allows access with a wheelchair or a stretcher and still allows space for the operator and a paramedic. The platform can be equipped with breating air outlets, as well as hydraulic and electric power outlets for different tools neede during an operation.
There is also an Integrated, corrosion resistant telescopic waterway with 1000GPM capacity, which enables efficient fire fighting without compromising the safety of fire crews – even more so as the platform and the water monitor can be fully remote controlled.
This 230ft aerial platform is mounted on a commercial Mack chassis, which makes the configuration compact and easily maneuverable. As every fire department operates in different environment, the F230RPX and it's equipment can be tailored to customer needs.
F230RPX in a nutshell
North America's tallest articulated aerial platform with working height of 230 ft (~20 stories)
Spacious rescue cage with 1000lbs safe working load
Articulation provides superior up-and-over capability and below-ground reach
Compact design on a commercial chassis, flexible to maneuver
Integrated, corrosion resistant telescopic waterway with 1000GPM capacity
Fast and safe operations with user friendly Bronto+ control system
Customizable to customers needs
Optionals include eg.
Breathing air, electricity and hydraulics in the cage
Remote control for boom movements and water monitor
Emergency back-up system
Detachable winches
Stretcher carrier, wheelchair access
High voltage detector
Ultrasonic collision guard
Various working lights and camera options
Laser Rangefinder
Bronto Loadman to measure ground bearing