Two Bronto aerial platforms handed over to Maltech
27 October, 2022
We are glad to announce the hand over of two new Bronto aerial platforms to Maltech AG at bauma 2022. Maltech, a market-leading equipment rental company in Switzerland, is one of the earliest customers in Bronto Skylift's history. In the picture from left to right: Roberto Quintero (Bronto), Eric Hunziker (Maltech), Dominik Keller (Bronto), Marc Hunziker (Maltech).
Bronto S70XR aerial with a new type of working cage
The S70XR, with its 70m working height and below 12-meter transportation length, is a popular choice for many different worksites. Maltech's new S70XR is mounted on a Scania 10×4*6 chassis. However, while the S70XR is typically built on 4 axles with under 32t GVW, Maltech chose to increase their working envelope by adding a 5th axle and some extra weight. This enables 6,4 meters more outreach to the rear sector than the typical, lighter construction. The options include a new type of extendable cage with extra wide entrance and 600kg capacity. When the cage is extended, the front railing can be moved aside, which enables easier loading and unloading of men, tools and material. For added safety, the boom movements are only possible when the railings are in place. Other options include e.g. a 2×220 degree cage rotation and a detachable 200kg cage winch.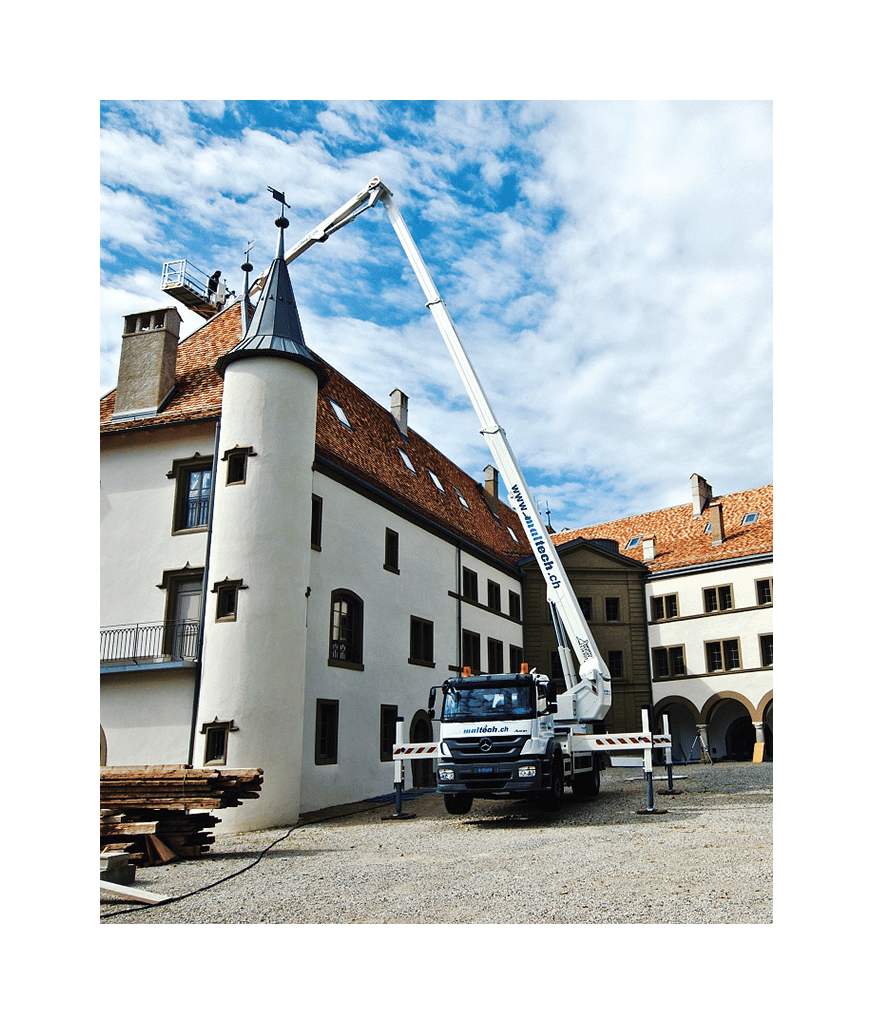 S38XDT aerial work platform
The S38XDT has all the key features required from a perfect aerial work platform. It's telescopic cage boom and compact design make the work at heights more efficient, easy and safe. Maltech's new S38XDT is mounted on a Volvo FE 320 4×2 chassis and is equipped with customer specific options such as an extendable working cage with ultrasonic collision guard sensors and 600 kg capacity, a hydraulically driven generator at the turntable and a reversing color camera with a display in the cabin. Maltech also added element support feet for the cage that allows them to safely move heavy objects when paired with a cage winch.