Expanding with the wind industry
Windpower is, and has been for a while, the cornerstone of the world's renewable energy systems. The industry has been evolving a lot for the past 10 years and is getting to the point where it provides a noteworthy portion of our energy. According to AWEA and canWEA both, North America and Canada now have enough installed capacity to cover about 6% of the total electricity demand. In Europe this figure is even higher, 11% according to EWEA. This means about 3,3 million homes in Canada and 26 million homes in the US. It takes over 6 500 wind turbines in Canada and over 56 600 turbines in the US to make this happen. Not only is the wind industry reducing our emissions, but it's creating jobs with an increasing speed. Currently wind is accounting for about 330 000 jobs in Europe (EWEA) and it is still expected to grow significantly.
One vital part of the industry is of course maintenance, which includes everything from nuts and bolts to big overhauling operations. The blades being constantly restrained by the air resistance and weather conditions need regular maintenance. World being still very much a part, there is various means to do this. One of the safest and most efficient way to reach the blades is with a truck mounted aerial platform, that can be driven on site (or to a vessel in off-shore farms), set up in minutes and provides a stable working environment and capacity to carry enough men and material up to over 100 meters / 320 feet.
Excelling in blade maintenance
Bladefence, a long-time customer of Bronto Skylift, is one of the companies specially focused on the blade maintenance. It was founded in 2010, received Germanischer Lloyd certification for wind turbine blade repairs in 2012 and established pilot operations in Canada in 2016 and are now looking forward to opening their first hub in the US.
Due to the speed and efficiency of Bronto aerial platforms and the ability control the repair conditions with a weather shelter, blade repair operations are carried out faster and with less weather downtime. The platforms create a stable working environment for different repairs and are fast to set up and dismantle. All this leads to reduced overall costs and increased turbine production for the asset owner.
Extra funding for expansion
The success story of Bladefence continues as they have landed to a 6-million-euro financing agreement to expand their North American operations. The agreement is done with with The Nordic Environment Finance Corporation ("NEFCO") and Nordea Bank, one of the largest banks in Europe.
"In 2016 we started our pilot operations in Canada and have since seen significant growth in the Canadian market. As many of our existing customers operate throughout North America, this expansion is a natural evolution of our previous work."

Ville Karkkolainen, CEO of Bladefence North America
"This financing provides Bladefence with the tools needed to continue our market expansion in North America with the opening of our first US hub in Chicago."

Joni Alasaari, Chairman of the Board of Bladefence Group.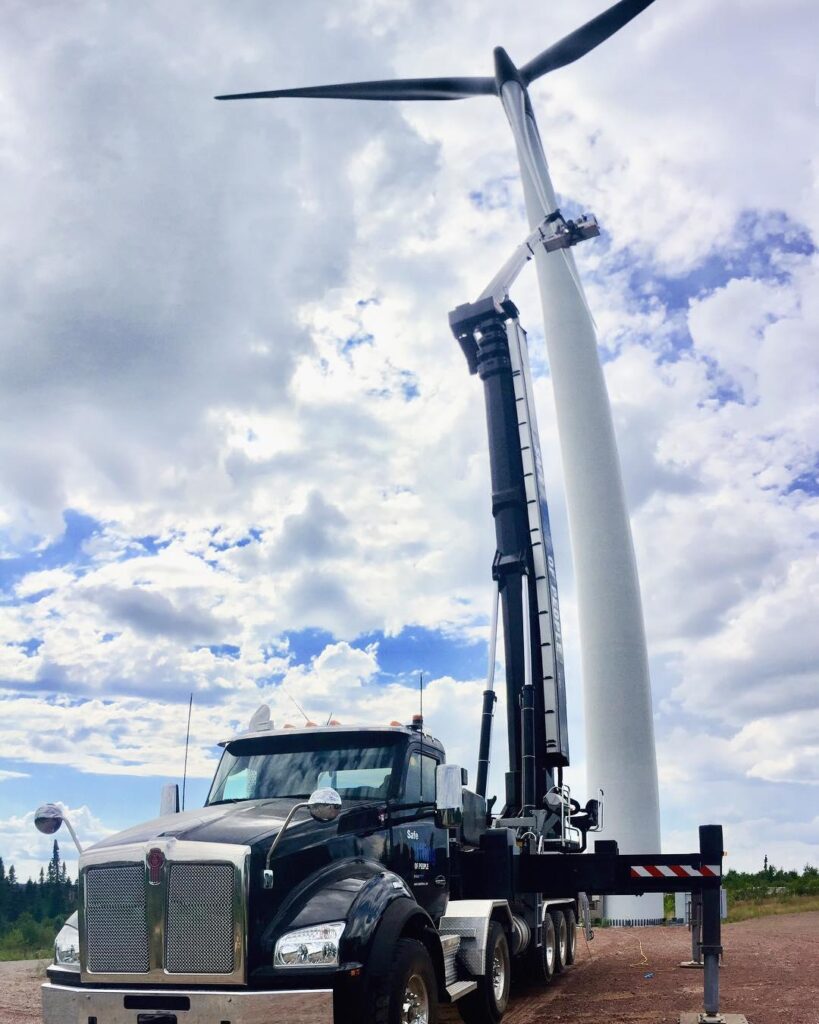 Bronto Skylift has been the chosen equipment supplier for Bladefence since the beginning in Europe and the fruitful co-operation continues overseas as well. The aerial part is manufactured in Finland and then mounted locally to its truck chassis at Bronto Skylift Inc in Orlando. In July yet another 90 meter / 295 feet aerial platform was delivered to Bladefence fleet, that consists of over 10 Brontos and more is to come.
"I'm quite happy to see that the vast work Bladefence has done to develop the industry is starting to pay off in a big way. We are immensely proud to be the chosen partner in this growth story and that our platforms play a role in the green future of renewable energy."

Antti Suoniemi, Access Sales Director, Bronto Skylift.