Bronto Skylift at SIGNAL112 trade fair
23 February, 2023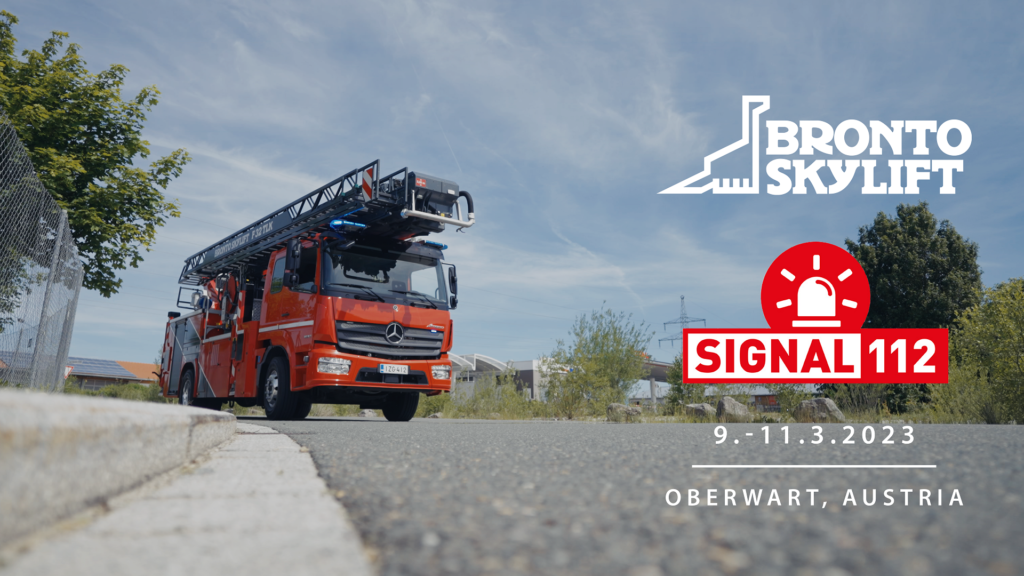 We are excited to participate in the all new SIGNAL112 trade fair, previously known as Feuerwehrmesse Oberwart, held in Oberwart, Austria on March 9.-11.2022. The three-day trade fair offers a platform for all fire brigades and organisations in the field of fire and rescue operating in Central Europe, as well as for over 120 exhibitors to present, exchange and discuss new ideas, concepts and solutions in the fire and rescue industry. We will be part of the event by presenting our city-ready F32TLK aerial fire-and-rescue platform as well our new Bronto One customer portal. Meet us at the event and experience the unit and Bronto One yourself! Our team is looking forward to meeting you!
City-ready aerial platform
The F32TLK is a compact and easily maneuverable aerial ladder platform for an array of rescue and firefighting missions. With faster automatic jacking, a spacious rescue cage with 500 kg capacity and various other beneficial features, the new generation F32TLK allows you to serve your city in all circumstances. The F32TLK is now available lighter than ever. With a total weight of just 16 tons, it provides an outreach of over 23 metres. The 18t version provides even more outreach – over 25 metres. The compact design and short transportation length of 9 metres make the F32TLK a perfect fit for urban environments. The advanced control system Bronto+ provides smooth, precise movements and is packed with safety features allowing you to focus on your job at heights.
There are plenty of options and modifications that help tailor the F32TLK to suit rescue and firefighting scenarios. E.g., breathing air, electricity and hydraulics in the cage, remote controls, stretcher carriers, wheel chair attachments and extensive camera options.
Bronto One Customer Portal
Do you struggle with multiple systems and getting an overall grasp of fractioned data? You can now get a full visual overview of your resources, performance and abilities with the cloud-based portal. Bronto One is a single point of entry towards Bronto Skylift's aftersales services anywhere around the world. ​
With Bronto One, you'll gain better insights and make the right decisions at the right time!​
Download a brochure Read more about Bronto One
Bronto One Simulator
The brand new Bronto One Simulator offers an immersive, hands-on experience
in maneuvering and controlling a Bronto aerial platform. It will give you the
opportunity to put all your hard-earned skills to the test, or just try operating for
the first time in a safe environment. In case VR glasses cause dizziness or nausea,
the simulator can be connected to a TV or display.
In addition to the boom movements, Bronto One Simulator offers the possibility
to drive the unit on the roads of a real-like virtual city and practice safety in
traffic. Steering wheel and pedals makes the experience even more realistic.
Bronto One Simulator and related Bronto Trainer software work as a stand-alone
and does not require network connection.