A 45-metre aerial platform for Bruck an der Mur Fire Brigade
22 June, 2023
Freiwillige Feuerwehr der Stadt Bruck an der Mur, a voluntary fire brigade serving the city of Bruck an der Mur in Austria, has recently taken delivery of a new Bronto F45XR aerial rescue platform. The fire brigade first started their search for a new aerial platform when their old aerial ladder had reached its "life expectancy" after 26 years of service. This created a need for a unit that could safely rescue people from high buildings and help in fire extinguishing operations in and around the city. Following lengthy discussions a decision was made to purchase an aerial platform with the support of the State of Styria and all local and regional authorities. After a Bronto aerial platform was presented to the fire brigade by the "Bundesbeschaffungsagentur" (a state agency for purchasing all kinds of products and goods for national and regional authorities) it was clear that the Bronto F45XR was the best choice.
"For us the product and the price offered suited us best. It can now guarantee rescue operations from the highest buildings of our city."

Daniel Schmid, Chief of Bruck Fire Brigade
Bronto F45R for Freiwillige Feuerwehr der Stadt Bruck an der Mur
The Bronto F45XR aerial platform provides versatility, effective outreach and everyday usability to all municipal fire fighting missions for Bruck an der Mur Fire Brigade. With over 26 metres of outreach, the 45-metre aerial represents the best performance in our product offering and ensures that the fire brigade can reach difficult places in challenging firefighting operations.
The aerial platform is mounted on a custom Mercedes Benz ECONIC 2635 6×2/4 chassis modified by Pappas Auto GmbH, weighs around 26 tonnes and is equipped with customer specific equipment such as a stretcher carrier with floor and cage corner mount, an intelligent rescue lifting system, a hydraulically driven generator and extensive camera options.
The unit will be used for local as well as for regional and state-wide fire and rescue operations. The Bronto F45XR aerial platform in Bruck an der Mur's fleet is currently the only unit of this kind (Bronto Skylift + Pappas/Mercedes) in all of Austria.
"We are extremely enthusiastic about this unit and are looking forward to using it in all kinds of operations after the necessary intensive practice sessions."

Daniel Schmid, Chief of Bruck Fire Brigade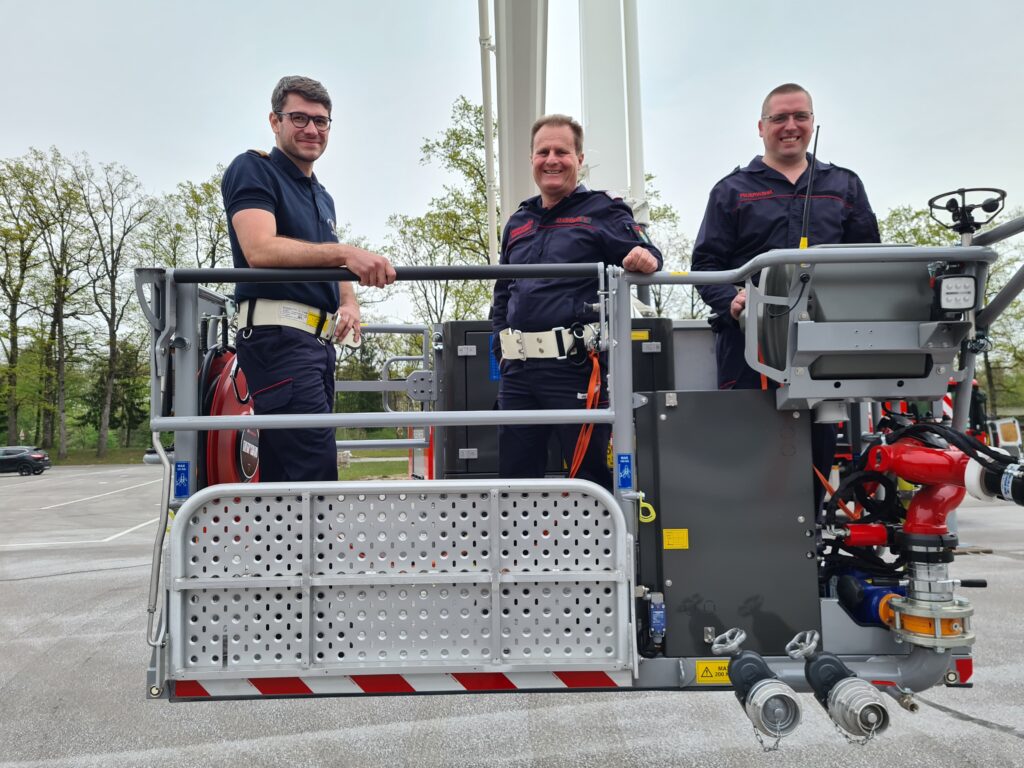 From left to right: Thomas Rauch (Brandinspektor des Landesfeuerwehrverbandes), Franz Strohmeier (Landesfeuerwehrinspektorat), Stefan Pilat (Brandinspektor des Fachdienstes)